In her new book, Your Fully Charged Life, alumna Meaghan B. Murphy shares strategies for thriving in the new year.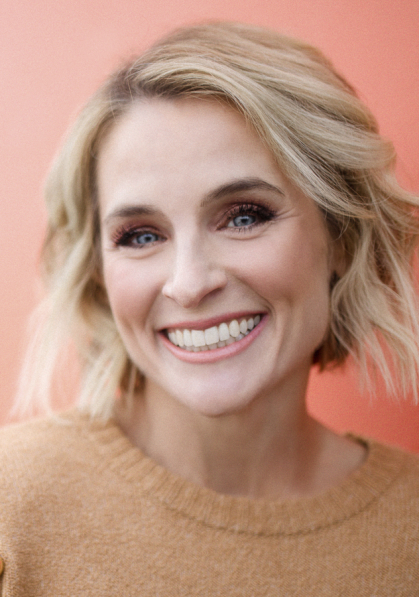 For friends and colleagues who view her as the personification of the Energizer Bunny, it's difficult to fathom that alumna Meaghan B. Murphy once was known in her family as Grumpy, a sulky kid who always expected the worst to happen. Things didn't go much better in high school, when she developed a serious eating disorder. During the past 20 years or so, however, Murphy RC'99 has made deliberate choices to change her outlook and develop the disposition of unrelenting optimism that animate her roles as mother, wife, friend, stranger on the street, and editor in chief of Woman's Day magazine. The strategies that she employs—based on research findings buttressing magazine articles that she has helped research and edit at leading publications such as Teen People, Good Housekeeping, Cosmopolitan, and Self—inform Your Fully Charged Life: A Radically Simple Approach to Having Endless Energy and Filling Every Day With Yay (TarcherPerigee, 2021).
Murphy isn't proposing that all you have to do is throw a mental switch and say, "I am going to be happy!" She's the first to acknowledge that life is tough, particularly during the COVID-19 pandemic, but the ways you think, react, feel, and behave in the face of daily difficulties, much of it subconscious, create well-worn pathways in your brain. The secret of living a fully charged life, one that gives you the energy and resilience to cope, is to create new neural paths by being aware of your thoughts, acknowledge them, and control your reaction to a negative situation, big or small. It starts with the power of gratitude—recognizing the bounty that you have in your life and choosing to make the best of situations all day long. These positive reflections, and adjustments, have a significant neurological and physical impact, producing dopamine and serotonin, the neurotransmitters responsible for promoting a sense of well-being. But it's not a one-off. Being in a continuous state of gratitude requires constant work initially, and Murphy shows you how to do it at home, at work, with friends, and even among strangers. But with practice, it can become habit and get easier.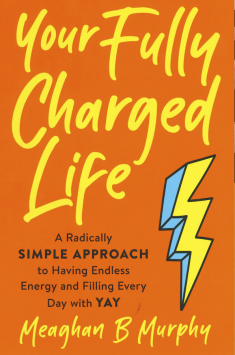 It could be taking the time to find meaning and purpose in your work and how it translates into increased job satisfaction as well as better performance and a sense of belonging. Sharing your humanity with others—and registering theirs—becomes part of everyday interactions that, Murphy says, take on more meaning and promote physical, mental, and emotional health and happiness.
The touchstone of a fully charged life is getting the proper amounts of sleep and exercise, aspirations topping the list of many people's New Year's resolutions. But their resolve often melts along with the March snow. Murphy provides realistic strategies for staying with it because, as the medical evidence bears out, exercise is a great source for energy, and sleep improves memory, concentration, and your ability to manage stress and fight illness. It's all part of living a fully charged life in 2022.
RUTGERS MAGAZINE: What have been some of the more surprising responses to Your Fully Charged Life?
MEAGHAN MURPHY: The hardcover version of Your Fully Charged Life came out on February 23, 2021—the height of the pandemic. Never in my wildest dreams did I think I'd be wearing slippers in my living room, talking to Hoda and Jenna via a live cellphone Facetime broadcast to launch my life's work. Yet as much as that crushed my author dreams of TV studio visits, a book tour, and signings, I thought, "Readers need this feel-good advice now more than ever." The irony was that some people also needed assurance that it wasn't selfish and frivolous to want to operate with presence, optimism, and joy at a time when there was so much suffering in the world. In some instances, it was as if fans were quietly confessing a love for my book because they felt guilty for wanting to be happier.
RM: What was the experience of writing the book like?
MM: It was impossible to write Your Fully Charged Life and equally impossible NOT to write this book. When my father [Raymond W. Buchan GSNB'77, GMLR'77] was losing his battle with pancreatic cancer, I made a promise to him and to myself: I would carry on with grit and grace and leave my own legacy of positive energy in book form. That meant figuring out how to secure a literary agent, working an entire year on a detailed 70-page proposal, shopping it to publishers before going to auction, and snagging a dream deal with Penguin Random House.
This was all while in the throes of grief, serving as the executive editor of Good Housekeeping and raising three small kids with my husband [Patrick James Murphy RC'01, SMLR'01]—all before actually tackling the writing! I spent a good chunk of my advance money hiring a collaborator to help with the intense research and keep me on track. There were days when I'd furiously scribble notes on a train ride to my office in New York City and text them to my partner to transcribe. It was an intense labor of love, with lots of hazy 4 a.m. wake-ups and sometimes tears in the shower. Then the pandemic hit just weeks before the manuscript was due to my editor, and the state of the world had me rethinking and rewriting chunks of text. Ultimately, this book is my proudest career achievement, and I know Pop is smiling down on me. He was honored with the Scarlet Knight at his retirement dinner and with a dedication brick outside the SHI football stadium. He definitely would've collaged this article on the basement wall!
RM: Love and friendship; meaningful employment; and exercise, diet, and sleep: these ideas seem like obvious ingredients for leading a more fulfilling, energy-rich life. But you have gone several steps beyond to explain how, why, when, and where each contributes to well-being. What was your thinking in developing these chapters?
MM: I geek out over the work of Martin Seligman, who essentially created the field of positive psychology in the late 1990s when he thought, "Instead of trying to fix what's broken, what if we look at what's right with those folks who truly thrive and try to emulate those key attributes?"He came up with the PERMA theory of wellness to describe his findings. In a nutshell, the P is for positive emotions, the E is for engagement, the R is for relationships, the M is for meaning, and the A is for accomplishment. I set out to find fun-filtered, actionable approaches for all of us to create these things in our own lives. Obvious? Maybe. But the real secret sauce here is in the application. I share the science through the lens of real-life experience, giving audiences the news in ways they can practically use.
RM: Your Fully Charged Life incorporates tons of sources and research. What percentage of the spadework was new for the book as opposed to information that you and editorial teams had gleaned for magazine stories over the years?
MM: The research was really important to me, hence why I worked with a research partner and why there are almost 45 pages of citations in the book. Much of the wisdom was gleamed from articles I either wrote or edited over my 25 years as a service journalist, but I wanted to take an even deeper dive. The WHY IT WORKS of the tips and strategies is crucially important to me. I don't just read an abstract; I call the study author.
RM: You make a distinction between "toxic positivity" and your notion of "a fully charged life." In a nutshell, what is the difference for those who may not get the chance to read your book?
MM: If I'm playing the role of my publicist for a moment (I studied acting with the late William Esper at Mason Gross School of the Arts), I'd say: EVERYONE should read this book. The paperback version (published on February 22) has an all-new intro. Plug, plug. But, seriously, the distinction is simple. Statements like "Good Vibes Only" or "No Bad Days" or "Look on the Bright Side" are classic examples of toxic positivity. This all-or-nothing positive thinking suggests we should somehow dismiss or ignore painful emotions or even tragic experiences to always "put on a happy face." Yikes! "Living fully charged" means absolutely looking on the bright side, but also seeing the dark side—all the sides—and gaining the tools to manage those negative emotions rather than denying the feelings, so you can ultimately bask in the sun.
RM: You describe yourself as a grumpy kid who went on to suffer from a serious eating disorder in high school and experience a friend dying. Then you decided enough was enough and you took steps to start improving your outlook and physical health. However, at the end of your freshman year at the University of Maryland, you encountered more difficulty: the parents of the friend who died and whom you wrote about in an essay for YM magazine sued you for defamation. What steps did you take to weather that storm and move on to sunnier climes after transferring to Rutgers to begin your sophomore year?
MM: The defamation suit gutted me and yet gave me the gift of perspective. Once I landed at Rutgers, I had already been through hell and I was in a strong place emotionally. I had fought going to Rutgers in high school because at that point I did NOT want to follow in both my mother [Kathleen Buchan GSE'99] and my father's alumni footsteps. This compounding drama made it incredibly clear that I needed to be near family, and my home was in New Brunswick. My sister [Erin Buchan Kurdyla RC'99] was starting her first year at Rutgers and playing on the softball team, and we became roomies. My brother [Kevin A. Buchan RC'01, SMLR'01] was there, too. I had the local support of my family. I could catch up with my pop and his buddies in the Blue Lot at football tailgates and go home for Sunday dinners and laundry detail. It was exactly what I needed.
I always joke that I didn't have a normal college experience, though. The train was right there! I was popping into New York City daily to take some of my Mason Gross acting credits at William Esper's studio, working as a contributing editor at YM magazine and then launching Teen People with fellow graduate Michele Promaulayko RC'93, going on acting auditions, and ultimately landing an on-air gig at MTV. I was busy! Not sure if I slept—something that horrifies me now. I always joke that I never went to a frat party or ate at the grease trucks, but I went to the Grammy's and hung backstage with No Doubt.
RM: Describe the last bad day you had—or, more likely in your case, an episode in the day—and how you pulled yourself out of it.
MM: I don't let a little BS derail an entire day. I have a toolkit to recharge and recalibrate. During the snowstorm that hit New Jersey in early January this year, I drove to the gym at 5:30 a.m. for my favorite group fitness class. YAY! But then as I was leaving, I got an alert from school that classes were cancelled due to icy conditions. Cue the panic: I had a podcast scheduled for that afternoon. How was I going to record with three noisy kids at home?! As I got in the car, I quickly realized just how slick the roads were. There were pile-ups everywhere, one car wrapped around a tree with the airbag inflated, sirens blaring, and road closures. I made it within two miles of my house and decided to just pull over and walk the rest of the way. This was all before 7:15 a.m. So, not my optimal morning, right?!
But here's how I find what I call the YAY in this day. For starters, I GOT to work out. I GOT to sweat with my gym buddies. If the freezing rain had kicked in earlier, I wouldn't have been so lucky. And thank goodness school was cancelled! That alert was the only reason I knew to drive with caution. The drive was scary; I was shaking, but I didn't crash. And on the slippery walk home, I felt connected to my community—a key happiness driver. I exchanged smiles and headshakes of disbelief with a gas station attendant, met a new neighbor out salting his sidewalk, tapped on the car window of a police officer who called in my car so it wouldn't be flagged as abandoned, and he gave me the 411 on the hazards so I could post on local social media to warn families of the dangers. Actively deciding to focus on these glimmers of good amidst the chaos helped me reroute my brain from dwelling on the negative and helped me move ONWARD—with a cup of coffee.