After 50 years of coaching women's collegiate basketball, C. Vivian Stringer announces her retirement.
One of the legends of Rutgers athletics announced in the spring that she won't be returning courtside. C. Vivian Stringer, the inspirational head coach of the Scarlet Knights women's basketball team since 1995, is retiring after five decades leading Rutgers, Iowa, and Cheyney State. During her career, the Naismith Basketball Hall of Fame coach amassed 1,055 wins, four Final Four appearances, and 28 berths in the NCAA Tournament. Beyond the impressive statistics, she is a mother, teacher, mentor, and role model. Her successor is Coquese Washington. 
"My life has been defined by coaching, and I've been on this journey for over five decades," Stringer said at the time of the announcement. "It is rare that someone gets to do what they love for this long, and I have been fortunate to do that. I love Rutgers University for the incredible opportunity they offered me and the tremendous victories we achieved together."
"Coach Stringer's impact," said Rutgers president Jonathan Holloway, "has been felt across our campuses, around the state, and throughout the nation. She is an icon whose accomplishments on and off the court are as remarkable as they are inspiring."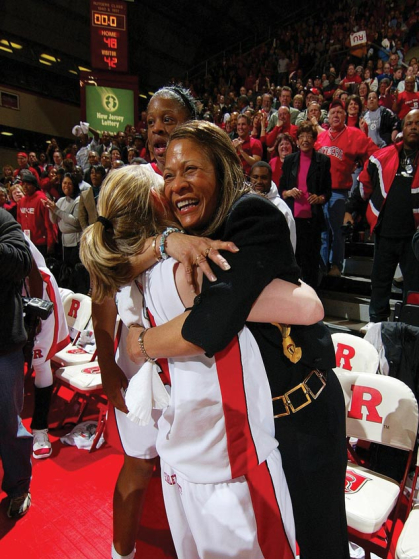 Stringer, only the second full-time head coach in Rutgers women's basketball history, led the Scarlet Knights since 1995, the longest-tenured Rutgers coach to date. Stringer won 535 games with the Scarlet Knights and qualified for 17 NCAA Tournaments, including 10 straight appearances from 2003 to 2012. Stringer led Rutgers to Final Four appearances in 2000 and 2007, with the latter culminating in Rutgers' appearance in the NCAA Championship Game, losing  to Tennessee. In 2000, she became the first men's or women's basketball coach in the country to guide three intercollegiate programs to the Final Four after playing in the first NCAA Championship Game with Cheyney State in 1992 and taking Iowa to the national semifinals in 1993.
Early in her career, Stringer led the small, historically Black school Cheyney State (now Cheyney University of Pennsylvania) on a run for the national title. She then turned a seven-win Iowa program that ranked 299th out of 302 teams in attendance into a perennial contender that posted its first advance sellout of Carver-Hawkeye Arena. Within three seasons at Rutgers University–New Brunswick, the Scarlet Knights won 20 games and a Big East division title. Within five years, Rutgers rose to national prominence as women's basketball exploded in popularity across the United States.
Stringer surpassed the monumental 1,000 career victory milestone in 2018, becoming the fifth NCAA Division I women's basketball coach—and the first African American coach—to do so. She retires ranked fifth all-time in NCAA women's basketball history with 1,055 career victories. In 2019–20, Stringer became the NCAA record holder with 37 seasons of 20 or more victories, and she received the John R. Wooden Award "Legends of Coaching" honor based on character, success on the court, graduation rate of student-athletes, and coaching philosophy. In addition to her induction into the Women's Basketball Hall of Fame in 2001 and Naismith Basketball Hall of Fame in 2009, Stringer entered another elite club with a 2020 induction into the New Jersey Hall of Fame.
Stringer was an assistant coach for the gold medal-winning 2004 U.S. Olympic women's basketball team; her first USA Basketball experience came as an assistant for the 1980 USA Jones Cup Team, which won the bronze medal. Stringer was one of the key participants in creating the Women's Basketball Coaches Association. Stringer also recruited, developed, and coached 25 student-athletes who went on to play in the WNBA and others who played professionally overseas. 
"Coach Stringer is a titan in college basketball, inspiring generations of student-athletes and coaches to pursue excellence on and off the court," said Rutgers athletic director Pat Hobbs. In honor of her quarter-century of service to Scarlet Knights student-athletes and the Rutgers–New Brunswick community, the court at Jersey Mike's Arena in Piscataway will be renamed C. Vivian Stringer Court during a dedication ceremony in the fall.