As the COVID-19 outbreak exposed shortages, Rutgers students and faculty entered the fray.
On the Front Lines—Early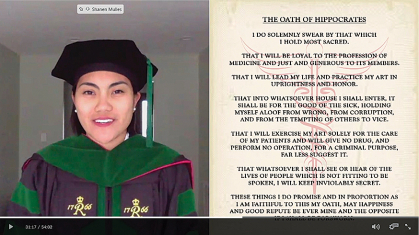 New Jersey Medical School became one of the nation's first schools to announce that its final-year students would be graduating in April instead of May—a move to bolster beleaguered medical teams at hospitals and other residency locations. Nearly 200 graduates became eligible to serve as first-year residents a month earlier than normal. Sixty-two students headed to residencies in New Jersey and 43 in New York City. Shortly thereafter, Robert Wood Johnson Medical School, the School of Nursing, and the Ernest Mario School of Pharmacy said that their students who met requirements would be able to graduate early and begin assisting in providing critical care.
Amid Her Own Tragedy, Student Helps Others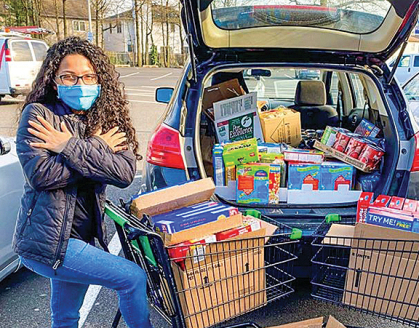 In late March, as counties in northern New Jersey reported a spike in COVID-19 cases, Karenn Hapuck Alves, a student at Rutgers–Newark, and some of her friends partnered with Mantena Global Care in Newark to launch Amigos por Newark, or Friends for Newark, an initiative to provide food for those in need. One project, called Adopt and Hug a Family, helped spread awareness and raise food donations. In the first two weeks of April alone, Alves, despite losing a cousin to the disease, oversaw the delivery of thousands of boxes of food and meals to more than 12,600 people, among them the elderly, children, and the homeless.        
Rutgers' Own Supply Chain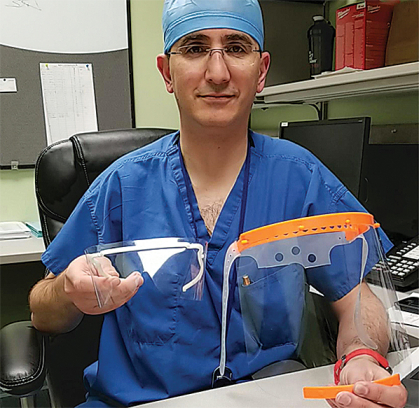 The dwindling supply of big-ticket treatment equipment like ventilators was just one shortage distressing the medical community. Also alarming was the depleting stock of simple, preventative items—notably personal protective equipment (PPE) like gloves, masks, and face and eye shields. Enter the RU 3D PPE project, a universitywide effort involving scores of faculty, staff, and students to 3D print protective shields and intubation  boxes. At Robert Wood Johnson Medical School, surgeon  Joseph S. Hanna, a 3D printing hobbyist and early project volunteer, designed 3D printed face and eye shields after reading about a face shield prototype. At the arts incubator Express Newark, Keary Rosen MGSA'00, a member of the fine arts faculty at Rutgers–Newark, was also making face shields at the Form Design Studio and Lab.
Online Relief
As shelter-in-place became de rigueur for much of the nation, the Rutgers community stepped up to offer online education, exercise, and entertainment options for the indefinitely at-home crowd. Some examples were:
"Berkner Breaks": weekday concerts by the queen of children's music Laurie Berkner RC'91 on her band's Facebook page

Rutgers Recreation: free online yoga and strength, cardio, and martial arts workouts

Rutgers Geology Museum: "Ask a Geologist" for precollege students

"Quarantine Sessions": house parties on Instagram with DJ Showcase (aka Stevens Germain MGSA'18)

Zimmerli Art Museum: virtual tours of the museum's collections