Years before the call for police reform in the wake of George Floyd's death, alumni working in law enforcement, as well as Rutgers experts, have been implementing best practices for safeguarding communities.
The image got worldwide attention: Joseph Wysocki, chief of the Camden County Police Department (CCPD), and fellow officers marching peacefully on May 30 with Camden, New Jersey, residents to protest the May 25 death in Minneapolis of George Floyd. The disturbing video of the unarmed 46-year-old Black man dying in police custody sparked protests across the nation, a tipping point in an alarming trend in similar fatalities. The march had been organized via social media by Yolanda Deaver, a Camden small business owner who grew up in the city. When CCPD officers, including Wysocki, asked Deaver if they could join the march, she said yes.
To many familiar with today's Camden—a more hopeful city now attracting billions in investment and benefiting from substantial reductions in crime—the image of residents and police peacefully marching together was more than a viral news photo. It was an affirmation that the city's decision in 2012 to scrap and rebuild its police force as part of a regionalized body—a move not without contention—set Camden on a better path, one with more trust between residents and the police who patrol their neighborhoods.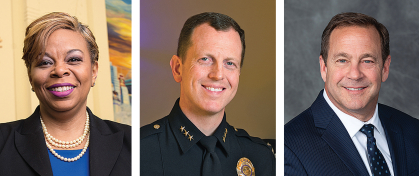 Three Rutgers alumni played big parts in the transformation of Camden: Dana Redd SBC'96, the former mayor of Camden; Scott Thomson CCAS'94, the former chief of CCPD; and Louis Cappelli Jr. CLAW'87, the Camden County Freeholder director who led the county's role in remaking the police department. The trio are among numerous Rutgers graduates, faculty, and staff at the forefront of innovative police reform in Camden and elsewhere.
"The unity walk … was the culmination of years of outstanding work by the men and women of the Camden County Police Department, the city's clergy, residents throughout Camden, and our community's leaders," said Cappelli, speaking to NJ.com about the May 30 march. "Direct interaction, relationship building, and community policing have been the bedrock of our agency since it started in 2013 and made a tangible difference in the city."
For years, Camden was in free fall, battered by a soaring crime rate and a fiscal crisis that led to a dramatically reduced and increasingly dispirited police force, one that had lost the trust of the city's residents, according to Redd and Thomson. Would police quickly answer calls for help? Would they expose the identities of residents who called in suspicious activity? These were among the doubts harbored by Camden's residents.
Before Redd became mayor of Camden in 2010, Cappelli, Thomson, and she were discussing how to combat the distress in Camden—a city perennially on lists of the nation's most dangerous. "Lou Cappelli and I had a long-standing relationship working together as public officials," says Redd, who had been a city council member and New Jersey state senator. In 2008, when Thomson was appointed chief of CCPD's predecessor, the Camden City Police Department, "we began to build our relationship around how we can make Camden a safer city."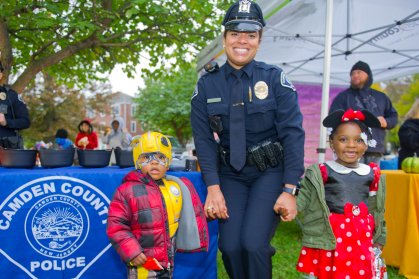 In 2012, with input from city, county, and state leaders, the City of Camden disbanded its police department and by 2013 had formed CCPD, with Thomson at the helm and a new formula for funding that mitigated the fiscal crisis. The bold step garnered praise—and also a healthy dose of scrutiny and skepticism.
As George Floyd's death drew calls to "defund the police," the nation looked to Camden to learn what happened, as Politico put it, to "The City That Really Did Abolish the Police." Thomson, who retired from CCPD last year to become executive director of global security at Holtec International, which has major facilities in Camden; Redd, who left city hall in 2018 to become CEO of the Rowan University/Rutgers–Camden Board of Governors; and Cappelli were again in the spotlight, responding to interview requests for their take on what an urban police force can be.
"We didn't create a new department out of police brutality," says Redd. "It was created as a result of a fiscal crisis and a public safety crisis" after a $26.5 million budget shortfall prompted the layoff of nearly half the city's police force. The culture of the new department, fostered by Thomson and designed to rebuild trust, "was not to serve as warriors but as guardians of the community, staying connected not just in times of crisis, but also in better times."
"There's a raging debate right now about 'defunding' the police, but it's missing the point," wrote Thomson in a June 18 op-ed in The Washington Post. "Communities need police. What they don't need is a cop with a warrior's psyche and an occupier's mentality. Camden's transformation wasn't about getting rid of police or reducing their authority. It was about increasing our legitimacy by convincing citizens that we understood our role. We didn't reinvent policing so much as reset it to what it always should have been."
"Camden's transformation wasn't about getting rid of police or reducing their authority. It was about increasing our legitimacy."
— Scott Thomson, former chief of the Camden County Police Department
The reset is reflected in CCPD's motto, adopted in the new department's early days: "Service Before Self." Camden laid off the police force and rehired only those meeting certain criteria, which were established with the input of residents. The people of Camden made it clear that they wanted police who embraced community policing, "the ones who got out of their cars and walked the neighborhoods," Redd says. Although Camden was accused by critics of union busting, the city ended up with more officers under a beefed-up budget and a reconstituted Fraternal Order of Police union that had new leadership.
"The first field assignment the new department received was to go into neighborhoods, knock on the doors, and introduce themselves," offering a card and cell number, says Redd. "The residents would just be taken aback. 'Wait, you're not responding to something negative in the neighborhood? You're just knocking on my door to say hello?' "
Revised metrics for rating officer performance de-emphasized the number of tickets issued and arrests made. Neighborhood response teams in crime hot spots required officers to walk and bike the streets, know an area's residents and businesses, show up at neighborhood events, and work to understand local concerns. Redd remarked on new "positive social interactions"—police handing out ice cream cones on a hot summer day, block parties funded by the police foundation, pickup basketball games. "What I remember is just our community coming together, and seeing this positive energy always made me feel proud and feel good for our residents."
High tech augmented the personal engagement with police relying on surveillance cameras, gunshot detection systems, squad car GPS, and automated license plate readers. Residents were empowered to anonymously monitor and report possible crime by checking online feeds of citywide "eye-in-the-sky" cameras. Another component addressed youth violence prevention, a far-reaching initiative with federal, foundation, city, and county support. "I believe we can increase our partnership even more so with schoolchildren and mentoring programs," Thomson said in 2015, speaking to NJ.com. "Thirty percent of our population is under the age of 18 and come from largely single-parent households. It's not a traditional role police play, but we are not a traditional police department."
Initially, there was a jump in complaints about excessive force and in police citations for minor violations, but then the improvements started coming. Since 2012, Camden has seen a 42 percent decrease in violent crime. Civilian excessive force complaints have dropped by 95 percent, from a peak of 65 in 2014 to three in 2019. A new use-of-force policy—adopted in 2019 as one of Thomson's last acts as chief and vetted by the police union and the American Civil Liberties Union of New Jersey—is "one of the most progressive" in the nation, according to the New York University Policing Project, which facilitated the policy's creation.
With crime and use-of-force complaints down, observers underscore the critical role of community advocates who pushed reform further and faster than might have been expected. "It was only tireless efforts from local activists and watchdogs that eventually pressured the new police force to adopt a new force policy, requiring officers to avoid escalation, training them to do so, and requiring them to intercede if another officer was incorrectly using force," wrote Stephen Danley, director of the graduate program in public affairs and community development at Rutgers University–Camden, in a June 16 op-ed in The Washington Post.
Defunding the police is a misnomer. Reformers want to reallocate some resources to non-law enforcement activities and preserve the institution of policing.
As CCPD seeks to improve on its success, one resource it has turn to for expertise is Rutgers University–Camden's Senator Walter Rand Institute for Public Affairs, a long-time partner in efforts to improve policing and public safety in Camden. Most recently, the department invited the institute to lead a U.S. Department of Justice-funded study to document the city's community policing and partnerships philosophy, analyze crime trends, and provide technical assistance and recommendations for continuing improvement. The study looked at crime types and calls for service, crime hot spot locations, crime intervention efforts, and training and technical advances that could help CCPD crime analysts increase their investigative capacity. In hot spot assessment, for instance, the institute examined if camera locations correlated with arrests and reported incidents and recommended that cameras be moved around. "With more data, it may be possible to determine more fully whether cameras deter crime or curb crime-reporting by residents," the study says.
Rutgers experts have had an impact elsewhere. Rutgers' Center on Policing (COP) has played a major role in bringing change to the police force in Newark, New Jersey, and other cities. Like Camden, Newark drew praise for its handling of protests following Floyd's death. Newark mayor Ras Baraka attributed the calm and control to several factors, including well-prepared clergy and community groups and the training that Newark police officers have received since 2014 when the Newark Police Department (NPD), tarnished by widespread police misconduct, began to be overseen by the U.S. Department of Justice in an agreement between the city and the federal government.
Experts at COP, which is a unit of the Rutgers Institute for Secure Communities (RISC), are key members of NPD's consent decree monitoring team. COP coordinates experts from Rutgers and elsewhere to assess NPD's compliance in areas such as use of force, data management and analysis, community-oriented policing, bias-free policing, body-worn cameras, and other consent decree metrics. The monitor's public quarterly reports point out reforms that are still necessary, but also indicate progress, including more NPD members being held accountable for conduct violations, the introduction of bias-free training, and advances in seeking and responding to input from the community.
COP's director is Linda Tartaglia, whose career in criminal justice includes serving as community justice coordinator for the New Jersey Attorney General and as a senior policy analyst for the U.S. Department of Justice—positions in which she helped build closer ties between communities and law enforcement. "Rutgers was an early leader in evidence- and science-based police reform, and a key strength of COP lies in its role as a neutral convener," says Tartaglia. "The center has brought together diverse stakeholders to respond to violence problems in communities. I have watched police officers and community members teach one another to solve neighborhood problems, bringing reform that impacts the delivery of police service."
COP's mission in New Jersey got a boost in October with a $300,000 grant from the Public Service Enterprise Group Foundation. It will jump-start a landmark police reform initiative to help New Jersey police departments review policies and practices and improve relationships with diverse communities. COP's new Community Engagement Police Reform Program will enable law enforcement throughout New Jersey to collaborate with experts who can help them develop policies and tactics that are in line with the changing needs of their communities.
Reform does not mean defunding police, a term that "does not capture the complexity of the problem at hand," says Tartaglia, pointing out that funding allocations are determined by elected officials. "They are often not included in reform endeavors when they are in fact critical decision-makers. Police would welcome social services to get involved in community interactions. They know they are not equipped to deal with all problems facing a community, such as mental health and homelessness. However, they are the only 24-hour agency responding at all times to any location, and even responding social service providers and EMTs want to have the police on scene for safety."
Elie Honig RC'97, RISC's executive director, says "defund the police" needs to be carefully defined, a perspective informed by his 14 years as a federal and state prosecutor. Before joining Rutgers, Honig directed the New Jersey Attorney General's Division of Criminal Justice, working with police on community engagement, use of force, internal affairs, and hiring and retention. He helped lead New Jersey's statewide bail reform effort and now sits on a state commission examining sentencing reform. "The term is commonly used to refer to reallocating resources within police departments or from police departments to other social services," says Honig. "Away from, say, the purchase of military-style equipment and toward enhanced training and community interaction, or toward victim support or mental health treatment. It's a smart, productive goal."
RISC's Miller Center for Community Protection and Resilience takes Rutgers' policing expertise across the United States and Europe. Led by John J. Farmer Jr., whose 20-year law enforcement career includes serving as New Jersey's Attorney General, the center, among other national and international programs, improves communications between police and vulnerable faith communities such as the Sikh community in Milwaukee; the Jewish community in Whitefish, Montana; the African American and faith communities in Chicago; and the Muslim community in Brussels, Belgium.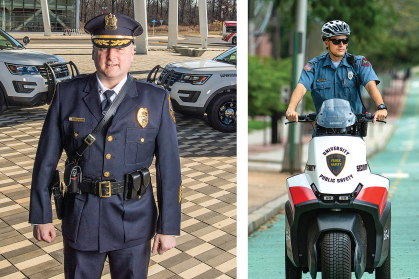 Like the municipal police forces of Camden County and Newark, Rutgers University Police Department (RUPD) officers undergo extensive preparation, receiving the same training and certifications as their municipal counterparts. They, too, have full authority to investigate criminal activity and arrest anyone on and off Rutgers' properties. Community policing and de-escalation are the touchstones of their training. The man in charge of RUPD is Kenneth Cop LC'95. His last name may seem to have sealed his destiny, but it was his determination to join RUPD and protect his alma mater and its surrounding communities that got him where he is. Cop says his first assignment at Rutgers was to go door-to-door in New Brunswick during the holiday season and hand out toys to children of less-fortunate families. "I remember being surprised by my first assignment," he says, "but also remember it being a very rewarding experience that has lasted with me throughout my career at Rutgers. I am committed to reinforcing the importance of community policing and thinking beyond the scope of the immediate on-campus population."
Candidates for a position on the force are evaluated to assure that they will embrace the community policing philosophy. "When I interview candidates," says Cop, "I'm looking for individuals who have people skills, show empathy, and can prove to me that they will embrace the philosophy that we've worked so hard to build."
Effective community policing recognizes when to de-escalate tense situations and how to minimize the need for force. "All RUPD police officers are trained in Integrating Communications, Assessment, and Tactics (ICAT)," says Cop. "This use-of-force training provides first responders with the tools, skills, and options to diffuse critical incidents." RUPD also works with Rutgers Student Health and University Behavioral Health Care to get students the help they may need to avoid another altercation.
"We often interact with people who are in crisis," says Myron Jordan SSW'16, a sergeant and patrol supervisor with RUPD-Newark, who complemented his background in social work with ICAT. "The ICAT training provides us with an alternative to using force. For example, instead of trying to physically subdue a person who appears to be experiencing a mental health crisis, officers will call for the Mobile Crisis Unit from University Hospital to assist." Yasmin Rodriguez CCAS'13, an officer with RUPD-Camden, says that officers can refer to their ICAT training in order to "take the best course of action in dealing with individuals in crisis or violent situations."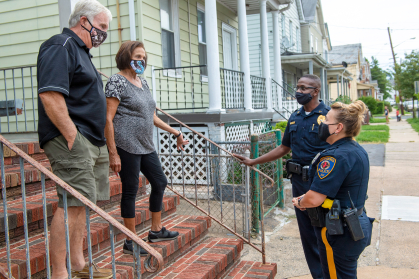 RUPD works closely with municipal law enforcement in Rutgers' host cities of New Brunswick, Newark, and Camden, with Rutgers and local law enforcement patrolling many of the same areas, sharing intelligence and resources, collaborating on investigations, and conducting joint emergency-management drills. RUPD provides training in active-shooter preparedness to New Jersey police departments.
Preparing many of tomorrow's law enforcement professionals is part of the mission at the School of Criminal Justice at Rutgers University–Newark. The curriculum incorporates the latest thinking on criminal justice, covering topics such as de-escalation, use of force, the intersections of civil rights and policing, community policing, due process, and use of stops and arrests. And with the current national focus on rethinking policing, plans at the school are underway to spend more time on the contemporary and historical background of defunding the police and even the elimination of police forces.
The notion to defund the police reflects a growing desire among some to reimagine public safety by transferring certain police responsibilities to the community, according to Alejandro Giménez-Santana GSN'13,'18, deputy director of the Rutgers Center on Public Security at the school. Research suggests that police are dissatisfied with job requirements that pressure them to issue tickets or generate income by asset forfeiture. Officers recognize that populations representing a relatively low threat to public safety—people struggling with substance dependency, homelessness, or mental health problems—could be better served by social service workers. Reimagining policing requires making the relationship between policing and community more symmetrical.
By giving community advocates more access to crime data and analytics, still largely the domain of law enforcement, the community could be more equal participants in public safety programs and planning. The Newark Public Safety Collaborative, led by Giménez-Santana and professors Joel Caplan and Leslie Kennedy, is a university, public, private, and nonprofit collaborative that relies on Risk Terrain Modeling—a new and effective means for using data analytics to prevent crime. Risk Terrain Modeling, which was created by Caplan and Kennedy, who are the executive director and director of the Center on Public Security, evaluates data to identify physical locations where crime is likely to take place, not the people perpetrating it. Removing these locales—a dark alley, an abandoned row house, an empty lot—as prime settings for crimes minimizes criminal activity and reduces negative encounters between the police and public; meanwhile, communities can commit non-law enforcement resources where they are needed most.
As interest in Risk Terrain Modeling training increases, Caplan and Kennedy have developed a free online self-guided training program to meet the growing demand. Data-informed community engagement that enhances crime prevention, coupled with increased police collaboration with non-law enforcement entities, is the direction that the researchers see law enforcement in America heading.
"Policing will have to become more community focused, with greater consultation and coordination with local organizations that specialize in issues that do not require primarily law enforcement responses, such as homelessness, drug addiction, and property abandonment," say the researchers. "Governments will be faced with the need to reallocate existing resources and to prioritize non-law enforcement activities. This can be done in a way that both preserves the institution of policing and embraces multiple stakeholders' expertise to build stronger, safer communities."
The approach is working in Camden, where Redd is keenly aware that unless a city is safe, public-private investment won't come, certainly not on the scale to transform a city like Camden, which is benefiting as well from major investments in education and health care by Rutgers and other institutions. Redd believes that they have helped create a new identity for Camden and facilitated the redevelopment of the city. Meanwhile, a coalition of leaders and residents continue to work together. "Camden has its own unique vibe, traits, community, neighborhoods, stakeholders, leaders," says Redd. "Our strength was being able to tap into that and make residents a part of the solution. We incorporated them in our public safety strategy because police need those partnerships to do their jobs."
For Tartaglia, the effort calls to mind the tenets of Sir Robert Peel, the 19th-century British politician known as the father of policing. "He believed the effectiveness of police departments should not be measured by the number of arrests, but by their efforts to gain the trust of their community through accountability and transparency," Tartaglia says. "As he famously said, 'The police are the public and the public are the police.'"