Science-in-Action Storytelling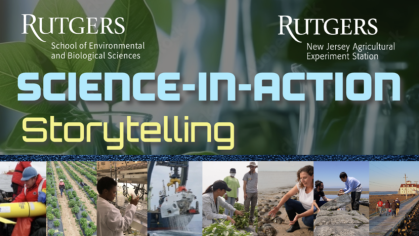 Join the School of Environmental and Biological Sciences for an exclusive screening of award-winning science short films followed by one-on-one conversations with the featured, world renowned Rutgers scientists at a post-screening reception.
Travel around our state and the world through stories of Rutgers cutting-edge research including: 
Fields of Devotion (Plant Breeding and Food Security) 
Ocean Farming (Aquaculture and Food Security)  
Mysteries of 9 North (Deep Sea Microbiology) 
Amaranth (African Indigenous Vegetables and Food Security)  
Antarctic Edge (Antarctic Climate Science) 
Life on the Edge: Horseshoe Crabs (New Jersey's Horseshoe Crab Migration) 
Stories from the Marsh (Climate Change's Impact on New Jersey's Fish Population)  
Biting Back (Developing Plant-Based Insect Repellent to Protect Against Disease in a Changing Climate)
The event is free to attend but you must register to attend. Space is limited. Information regarding parking will be shared with those who register prior to the event.