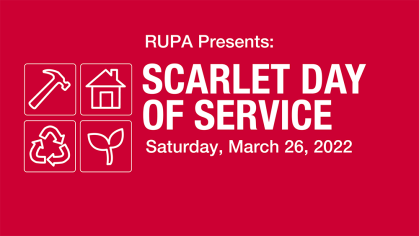 Scarlet Day of Service is a campus-wide day-long service event at Rutgers University–New Brunswick held in both the fall and spring semesters. Over the years, this event has provided students and alumni an opportunity to serve New Jersey by cleaning up communities, revitalizing outdoor spaces, working with youth and older adults, and more. 
    
As part of our commitment to civic engagement and the prideful tradition of giving back to our communities, you are invited to participate in a meaningful service opportunity for the Spring 2022 Scarlet Day of Service!
Students should arrive at Deiner Park (College Avenue Campus near the SAC bus stop) at 8:45 a.m. for check-in and can expect to return by 5:00 p.m.
Free breakfast, lunch, transportation, and a t-shirt will be provided.