Rutgers Student Contest to Recreate the Fat Sandwich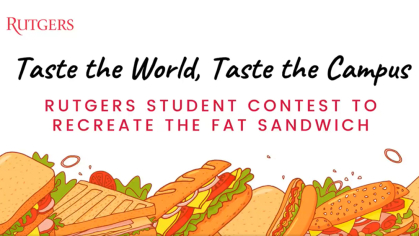 Rutgers University is the birthplace of the iconic fat sandwich—a greasy tradition that is one of the university's "unofficial" points of pride.
The fat sandwich appeared on the fast food scene in the late 1970s and has remained a Rutgers fixture ever since. The original fat sandwich was the "Fat Cat," made up of a double cheeseburger, fries, lettuce, tomato, mayonnaise and ketchup, all on a bun.
Now, over 40 years later, Rutgers students are invited to re-imagine the fat sandwich as we know it. Be creative and submit your recipes!
Submissions are due Monday, September 28. Winners will be announced on October 16 in celebration of World Food Day.