Inclusion Summit: ACTivating Advocacy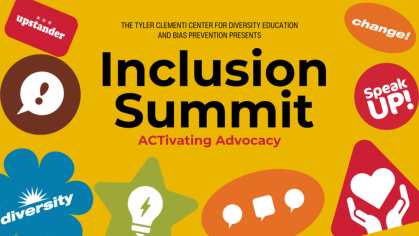 Join the Tyler Clementi Center for Diversity Education and Bias Prevention for the second annual Inclusion Summit: ACTivating Advocacy from 9 am to 3 pm on Friday, September 29th (in-person and virtual).
This year's theme is a call to action to harness our collective and individual influence to foster positive change in our learning and working spaces. We are thrilled to offer learning opportunities focused on age inclusive practices, yoga tools for realizing inclusiveness, an introduction to gender diversity, equity and inclusion, advice for meeting students' basic needs, and interactive theater performances designed to interrupt bias and harassment.