Homecoming and Family Weekend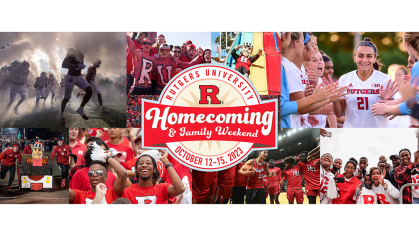 Celebrating Rutgers and its traditions is better when shared with everyone. This fall, families of Rutgers students and alumni are invited to Homecoming and Family Weekend, October 12-15.
Members of the Rutgers community from around the country will come together at events which include entertaining programs, sporting events, a football game tailgate, and more. Don't miss this great opportunity to cheer on the Scarlet Knights as they take on Michigan State!
Thursday, October 12
Homecoming Bed Races
Women's Soccer vs Michigan
Friday, October 13
All You Can Eat with Rutgers Dining
Open Gym at all Five Rutgers Fitness Centers
Career Portrait Lounge for Parent and Family
Future of Democracy Networking Reception
A Day at Rutgers Farm
Men's Soccer vs Wisconsin
Rutgers African-American Alumni Alliance Homecoming Weekend Reception
Alumni and Friends Homecoming Pregame Party
Saturday, October 14
The Rutgers Boardwalk
Tailgate for Alumni and Families
Rutgers African-American Alumni Alliance Community Tailgate
Rutgers vs Michigan State Homecoming Football Game
Rutgers University Glee Club: Rutgers Sings!
Paint Knight
Sunday, October 15
Rutgers School of Dental Medicine Alumni Picnic
Women's Soccer vs Michigan State
Zimmerli Art Together Family Programming
Rutgers Wind Ensemble: Concerto for Wind Ensemble