Home Gardeners School @Home Edition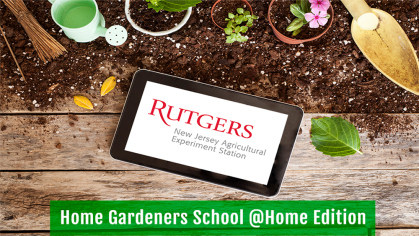 Home and vegetable gardening have become increasingly important in 2020. Whether you are just starting or expanding your planting prowess, the Home Gardeners School @Home Edition is here to help!
With the goal of helping all gardeners learn new skills in a fun, friendly, interactive setting while remaining safely in their homes, several instructors from the annual Home Gardeners School event have prepared their workshops in an online format.
Each hour-long workshop provides practical content from gardening experts who want to help you make 2020 your best gardening year yet! You will have the opportunity to ask the instructor questions using the course chat feature. Plus, you will leave each workshop with a digital resource packet that will include helpful items such as fact sheets, checklists, and/or lists of other resources that you will be able to refer to throughout your gardening future.
Below is a list of upcoming Home Gardeners School @Home workshops.
Learn more and register for any of the workshops here.
Foliage and Fruit for a Vibrant Fall
September 16, 2020; 1:00 p.m. - 2:00 p.m. Eastern
Instructor: Steve Kristoph
Registration Fee: $35.00 per person
Lime-Haters (Ericaceous Plants)
September 23, 2020; 1:00 p.m. - 2:00 p.m. Eastern
Instructor: Steve Kristoph
Registration Fee: $35.00 per person
Composting and Good Soils
September 30, 2020; 5:00 p.m. - 6:00 p.m. Eastern
Instructor: Virginia Lamb
Registration Fee: $35.00 per person
Bountiful Bulbs for Year-Round Beauty
October 14, 2020; 1:00 p.m. - 2:00 p.m. Eastern
Instructor: Bruce Crawford
Registration Fee: $35.00 per person