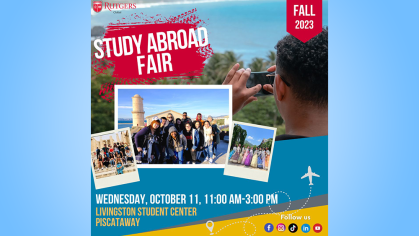 Interested in studying abroad? Stop by the Rutgers Global Fall 2023 Study Abroad Fair on Wednesday, October 11 from 11:00 am - 3:00 pm at the Livingston Student Center in Piscataway!
Learn about study abroad programs and find out how international exposure can give you a competitive edge in your job hunt. Rutgers Global staff, faculty, and providers have been running study abroad programs since the 1960s, and since then, thousands of students have taken advantage of study abroad opportunities. You'll also learn how study abroad can help you be a responsible member of the global community, make a positive impact both internationally and locally, and engage in life-changing social and cultural learning experiences.
The Study Abroad Fair will also feature food, music, and giveaways—including application fee waivers and scholarships!