Fall Parent and Family Weekend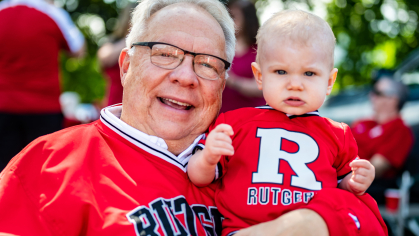 After a two-year hiatus, Rutgers–New Brunswick's Fall Parent and Family Weekend returns in person on October 7–9, 2022.
Students, parents and family members of all ages are welcome to the New Brunswick campus to enjoy athletic, social, educational, cultural, and religious programs with their Scarlet Knights. While most families who participate live in the tri-state area, many families travel across the country to share in Rutgers traditions and community during this 3-day event.
The full schedule of events may be found at go.rutgers.edu/pfwfall2022 
Some events require advanced ticket purchase or reservation. Space is limited for these events and many fill up/sell out VERY quickly.
There are select virtual events to accommodate families who cannot join in-person.
Here's a preview of some of the events on the schedule
Football vs Nebraska with Parent and Family Tailgate
George Street Game Watch Party at New Brunswick City Market
Shabbat Dinner with Rutgers Hillel
Late Knight Bingo with Student Centers and Activities
Taste of Rutgers with The Division of Student Affairs
Study Abroad Info Session with Rutgers Global
Virtual Paint Party with The Division of Student Affairs
Wine Tasting with the R Family Council
Cultural Expressions of Human Emotion with the Rutgers Wind Ensemble
Family Feud with Rutgers Recreation
Stargazing Tours with the Serin Observatory
Hub City Food Truck Festival with the City of New Brunswick
Brunch with Dance Marathon
Women's Volleyball vs. Maryland
Men's and Women's Soccer vs. Indiana
Art Together with the Zimmerli
Oktoberfest with the City of New Brunswick
Cook's Market with Rutgers Gardens