Virtual Screening of "RIGGED" with Rutgers University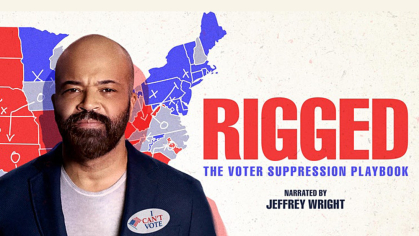 Rutgers University Libraries are observing National Voter Registration Day, September 22, by airing the film "RIGGED: The Voter Suppression Playbook," an award-winning documentary that exposes the nefarious tactics used to suppress the vote and serves to spark discussion on the actions needed to protect our democracy. A panel discussion will follow.
Panelist include:
David Greenberg, Professor of History & Media Studies, Rutgers-New Brunswick
Lorraine Minnite, Associate Professor of Public Policy, Rutgers-Camden
David Goodman, Vice Chair, Andrew Goodman Foundation
Christabel Cruz, Rutgers Eagleton Institute Center for American Women and Politics
Chenjerai Kumanyika, Assistant Professor of Journalism and Media Studies, Rutgers-New Brunswick
Moderator: Mac Heller, Exec. Producer, Rigged
Shot principally during the 2016 election, the film tracks a systematic, decade-long effort to reverse the impact of the growing demographic tide of non-white and younger voters who helped elect President Barack Obama in 2008. It details a variety of voter suppression "plays," or tactics, ranging from the purging of voting rolls and passing of new, restrictive voter ID laws to gerrymandering and voter intimidation. The film includes revealing interviews detailing how the voter suppression game is played as well as cogent insights from leading voting rights advocates and law professors. It is narrated by Tony & Emmy award-winning actor, Jeffrey Wright.
This screening will be presented via Zoom webinar. A link will be emailed to registrants in advance of the screening. The full film link is available on the event page once you have registered.