Scheherazade Tillet: Black Girl Play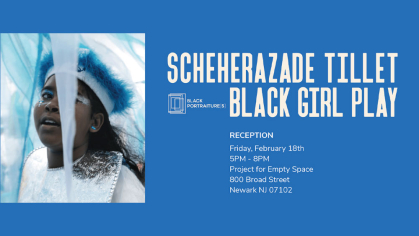 Project for Empty Space presents a solo exhibition of lens-based work by artist-activist Scheherazade Tillet as part of Black Portraiture[s] VII: Play & Performance Conference.
Opening Reception
The public is invited to a reception on Friday, February 18, from 5–7 p.m. Per CDC recommendations, all visitors are required to present proof of vaccination and wear a mask to enter the Project for Empty Space gallery.
The Exhibition | Scheherazade Tillet: Black Girl Play

Tillet's photographs in Black Girl Play depict a variety of important moments in Black girls' lives, ranging from private play in the intimate setting of home to the pomp and circumstance of prom preparations to parading down the streets of Port of Spain, Trinidad, during the Kiddies Carnival. Tillet's photographs capture an air of rarely seen intimacy and comfort. The inner glow of each piece is directly linked to Tillet's process and her ability to find points of empathy with each girl with whom she works. She is as much a caregiver and relationship-building as she is a photographer, and the relationships she develops with her collaborator/subjects resonate throughout each piece.
Seventh Annual Black Portraiture[s]: Play and Performance Conference
This event is part of the Black Portraiture[s]: Play and Performance, the seventh annual Black Portraiture[s] Conference from Thursday, February 17 to Saturday, February 19, 2022. The three-day conference explores the theme of play and performance in past and contemporary African diasporic art and performance and will conclude with a series of groundbreaking keynote conversations for the 42nd Annual Marion Thompson Wright Lecture at the Newark Museum of Art.
Related Events