A Conversation with Eddie S. Glaude Jr. on Dr. Martin Luther King Jr.'s Legacy, Our Racial Reckoning, and the Path Forward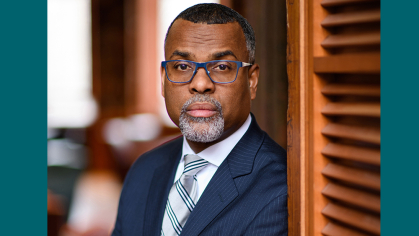 Nationally respected scholar, commentator, and author Dr. Eddie Glaude will lead a discussion guided by his book, Democracy in Black: How Race Still Enslaves the American Soul, which explores the foundational perspectives set forth by Dr. King in his last book, Where Do We Go From Here: Chaos or Community.
A Q&A with the author – moderated by Dr. Nyeema Watson (vice chancellor for diversity, inclusion, and civic engagement) – will follow the talk. Rutgers University–Camden Interim Chancellor Margaret Marsh will offer comments.
Dr. Glaude also is the author of the books In a Shade of Blue: Pragmatism and the Politics of Black America, and his most recent, the New York Times bestseller, Begin Again: James Baldwin's America and Its Urgent Lessons for Our Own, which takes a wide look at Black communities, the difficulties of race in the United States, and the challenges we face as a democracy.