Astronomical Observatory Public Open Viewing Nights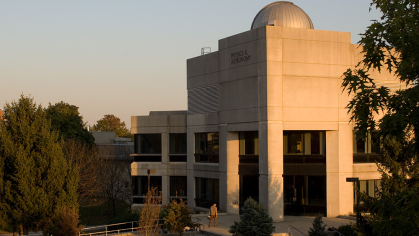 Observe the night sky through a 20-inch optical telescope!
The Robert A. Schommer Astronomical Observatory on the Busch Campus hosts free public open viewing nights on the second, third, and fourth Thursdays of every month (weather permitting). The observatory is open for two hours starting at 8:30 p.m. (October through March) or starting about one hour after sunset (April through September, when it is not yet dark at 8:30 p.m.). 
Please note: Observing will be canceled for that night if the skies are cloudy at the beginning of the observing session.
Location
The Robert A. Schommer Astronomical Observatory is located in the dome on the roof of the Serin Physics Laboratories on the Busch Campus of Rutgers, the State University of New Jersey. Enter the doors on the west end of the building (facing Allison Road) and take the stairs or elevator to the fourth floor.
The public can park in lot 53 or lot 53A , but should obtain an electronic permit beforehand. Rutgers faculty, staff, and students do not need to obtain an additional permit but should only park in lots allowed by their existing parking permits.