Students who come to college later in life often describe that process as a journey. But few have travelled as far – geographically or emotionally – as Cassie Botnick.
"I started at community college in 2010, then I left and moved to California, then I came back, then I moved to Thailand, then the Virgin Islands, then Florida, then Fiji, then St. Kitts," says the Monmouth County 29-year-old. "Then I got pregnant and moved back to New Jersey."
And that was the real start of an even longer voyage, a trek that took her from carefree scuba-diving instructor to single parent, online-media star and autism advocate.
"It's been a trip," she admits.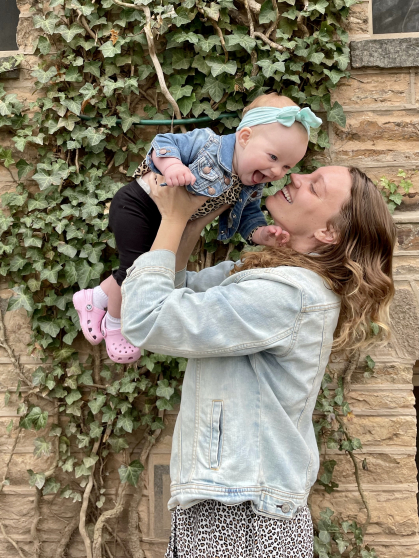 It began when, after coming home back in 2019, Botnick re-enrolled at Brookdale Community College – three weeks after giving birth, she graduated with her associate's degree. Then, through the Rutgers University Statewide Program, she went after her bachelor's degree. "I figured I was going to be home now with a baby anyway, so why not?" she says with a laugh.
Attending online classes during the pandemic, Botnick made her infant daughter, Luna, a regular, if virtual, part of her Rutgers career.
"She would be in my class on Zoom with her baby on her lap, and she'd still be participating more than anyone else," says Robin Gaby Fisher, who has just retired as coordinator of the Rutgers journalism program. "She's an incredible young woman – ambitious, adventurous, whip-smart. She's a special young lady and a terrific writer."
A lot of that writing was about Luna, who was already starring in Botnick's popular online blog, videos and multiple social media accounts including TikTok and Instagram. At first, Botnick's posts mostly chronicled the daily ups-and-downs of being a loving single mother and busy college student.
That changed shortly after Luna's first birthday, when Botnick noticed some unusual tics and behavioral quirks. "She had no words, she did repetitive motions like flapping her arms – even at 13 months, I could see she was different," she says.
Instead of ignoring it, Botnick made an appointment with her pediatrician. He suspected autism -- a diagnosis formally confirmed six months later.
"The earlier you know, the better off you are," Botnick says calmly now. "Knowing my daughter is autistic helps me be a better parent. Instead of getting frustrated, I just remind myself that her brain is wired differently, she processes things differently."
"A diagnosis at that age is very unusual," notes Kate E. Fiske, a clinical associate professor at Rutgers Graduate School of Applied and Professional Psychology. "For a parent to catch those signs early on – that's very impressive. And important. Those years are pivotal, and an early diagnosis can really change the trajectory."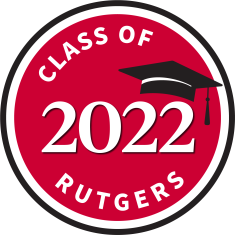 After news like that, some parents might have dropped out of school for a while, or even out of sight. Instead, Botnick increased her workload, and her little family's visibility. Now the one-time world traveler is on a different kind of journey with her daughter – one she's titled "Traveling the Lunaverse," and is chronicling across her increasingly popular social-media sites (her TikTok account alone has over 600,000 followers).
Refreshingly honest, Botnick's posts range from sunny tips for other parents ("Five Things That Bring My Autistic Toddler Joy") to serious updates on Luna's health. A recent, and sobering development? Rapid, seconds-long "micro-seizures." Botnick had first noticed Luna having these tiny twitches and pulled out her phone to video them. After seeing them, a neurologist ordered MRIs -- which revealed a growth on Luna's brain.
That led to further tests and months of anxiety. (The latest, good news – it's a cyst, not a tumor.) Botnick managed the roller-coaster of worry with some emotional support from her family, occasional hangouts with friends, and a lot of positive attitudes. "It's who I am as a person," she says. "Stressing about the future is just going to overwhelm you. I need to be positive, for myself and my daughter."
Parents of children with autism are more stressed than virtually any parenting group, says Fiske. "You can give so much of yourself you can feel there's nothing left for yourself. That's why it's important to make time to do the things you want, to give yourself joy."
Botnick finds some joy in her social-media stories, hoping they will uplift others.
"I've always been really open and honest online, and I think it's helped people feel less alone, to realize it's OK to talk about things," she says. "My goal after graduation is to get back to travelling and raise Luna around the world, sharing our journeys with others. Honestly, I think our adventure together is just getting started."
"I know she's going to end up being a travel journalist of some kind, going all over the world with that little one," Fisher predicts.
But first her mother has to walk on stage and pick up that degree. Botnick is ready. And so is Luna.
"She's been with me since I first applied to Rutgers, when she was in my belly," Botnick says. "She's been there every step of the way with me, and when I go up to get that degree, I want her to walk up there with me. I've already ordered her a little matching cap and gown."