Where Sci-Fi Meets Haute Couture for Rutgers Costume Design Students
Mio Guberinic, costume designer for Madonna and Katy Perry, trains students to create costumes from thermoplastics
Mio Guberinic, costume designer for Madonna, Katy Perry, Saturday Night Live and Batman's nemesis Bane, is training Rutgers students to create wearable art through the technology of thermoplastics.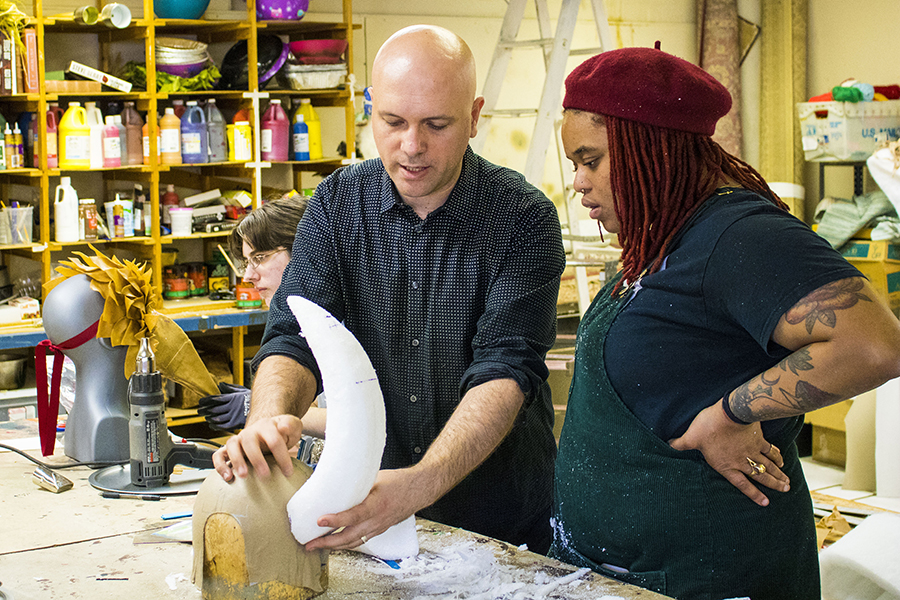 Mio Guberinic helps BFA student Liza Alexis attach horns for a helmet accessory in Ellen Bredehoft's costume crafts class. (Photo by Steve Shimchick)
---
Guberinic is leading a weekly workshop for Mason Gross School of the Arts theater program students, in Ellen Bredehoft's costume crafts class, in which the students are creating unique masks, corsets and other costume items with moldable plastics that can be made to resemble everything from delicate lace to steel armor.
Guberinic's most recent projects include artisan work for the Broadway musical Frozen and Amazon video series The Tick and The Marvelous Mrs. Maisel.  He is the winner of three awards in the 2016 World of Wearable Art competition and the Irene Sharaff Young Masters Award.
He speaks with Rutgers Today about the journey through costume design that took him from Serbia to Chicago and New York, along with a glimpse of his Rutgers students' design creations.
How did you get into costume design as a career and what has your journey been like?
I started drawing models, monsters and fairy creatures with costumes when I was three years old. I also am a huge fan of sci-fi movies and haute couture, so I needed a career that supported both of these passions. I studied at the Academy of Applied Arts in Belgrade, Serbia, and then later completed my MFA at Northwestern University where I focused on creating costumes for theater.
After three years of the very intense theater scene in Chicago, I moved to New York City, where I knew I would have a lot of opportunity to work in fashion, theater and television. I first focused on window displays, avant-garde dance shows, solo performances, and nightlife events and now I have the opportunity to show my designs on television. I feel very fortunate with my journey and what I carved out for myself so far.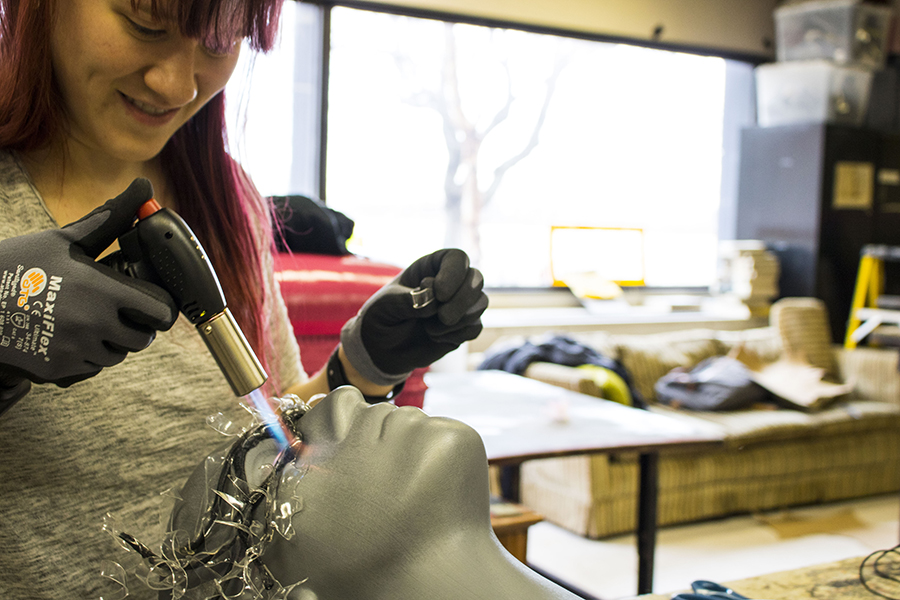 MFA student Kim Griffin uses a torch to mold her clear eye mask accessory during class. (Photo by Steve Shimchick)
---
What were some of the most challenging and exciting projects in your career?
Deadlines are a big obstacle in this industry. While working on Madonna's tour, I got a chance to experience that firsthand, but on television series, the deadlines are even crazier. While working on Amazon's The Tick series, I was given one week to create a full robot costume, and while working on Saturday Night Live, I was only given two days to create costumes for the cast that resembled armor. But one of the things I love is getting to work with new techniques, like when I created a 3D printed mask for Bane, a character on Fox's Gotham.
With every new project, there is a new vision that asks for a restructuring of the creative process. I find it incredibly fulfilling and fun to think of different ways to use traditional costume artisanal skills and the use of contemporary technology to find solutions in designing and developing a project.
What types of thermoplastic materials are you teaching Rutgers theater arts students to use in costume design?
We are using Worbla, a special kind of plastic that can be shaped and formed when exposed to heat and when cooled. It's environmentally friendly and can be reused many times.
It's brown, opaque and made from renewable natural materials, and it is nontoxic and skin safe.  You can sculpt it with hot air, water or steam, so long as the temperature reaches 194 degrees Fahrenheit.  Once it's heated, it becomes flexible like fabric and it hardens very fast. It can be cut with scissors, knives or by laser, and when cold it can be sanded or carved with woodworking hand tools. Because it's naturally adhesive, it is very easy to attach several layers without the use of glue. You can even put it through a pasta maker and make another sheet again.
I use it to create masks, hats, corsets and full body costumes. With crazy deadlines in the fashion industry, it's incredibly useful to have a material that can be stitched, sculpted, riveted and painted easily, so I can see why it's becoming so widely used.
How are the Rutgers students using this material?
The Rutgers students are working with Worbla for the first time and every student is developing their own design. I've enjoyed seeing students get excited and inspired during the creation process, especially while working with this material. My goal is to trigger their imagination as much as I can and support them while they bring their own vision to life.
So far every student is using the material in completely different ways. One student is using Worbla and foam to create a collar in the art nuveau style of the late 1800s. One is molding the material onto a wired mask with clear leaves. There is a  robot armor-like corset, a feather corset, bird mask with laser-cut feathers, and a beautiful showgirl headpiece. Each student's work stands out in its own way and I've been very impressed so far.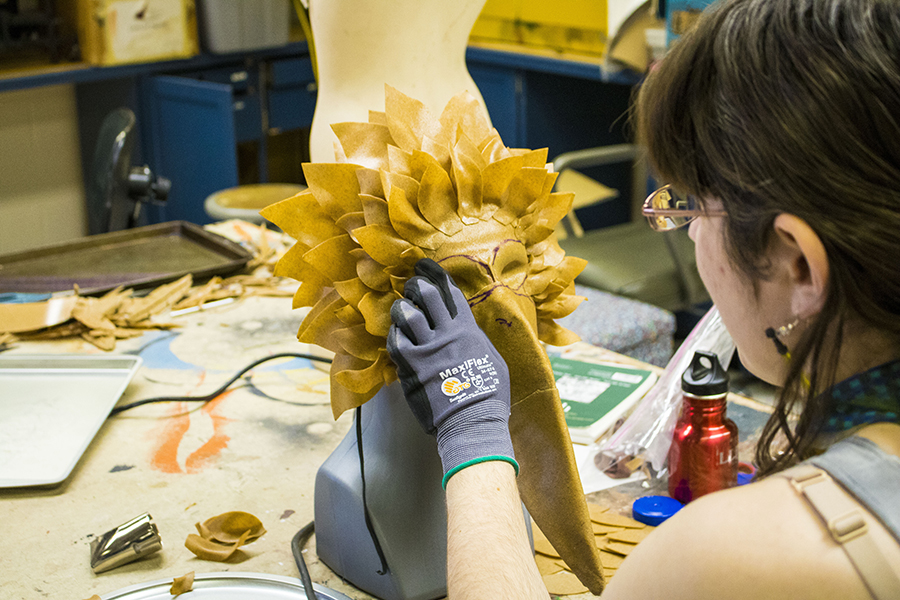 BFA student Julia Meier attaches feathers to a mask using Worbla thermoplastic material. (Photo by Steve Shimchick)
---
How do you hope to grow this class for future Rutgers theater students?
This is the first five-week long thermoplastic Worbla class I've ever taught and I am excited Rutgers invited me to teach. Teaching is a learning experience for me, and it's exciting to see how things evolve. Right now I am learning which parts of the class take more time and which parts could be modified. So far, I am really happy with what we were able to accomplish and I hope to come back next year and do it again.  
---
For media inquiries, contact Cynthia Medina at c.medina@rutgers.edu.