Jacquelyn Litt brings her expertise in gender, race and class to Rutgers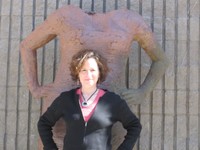 NEW BRUNSWICK, N.J. – Professor Jacquelyn Litt, an award-winning sociologist and the founding chair of women's and gender studies at the University of Missouri, has been appointed the new dean of Douglass Residential College and the Douglass Campus at Rutgers University. Litt begins her term as Douglass dean on Sept. 1. 
Douglass Residential College is a community of students who elect to participate in a women's leadership curriculum. Douglass features residences for women who share similar interests, an externship program, mentoring, leadership training, scholarships and a three-credit course in "Knowledge and Power: Issues in Women's Leadership." 
 "Jacquelyn Litt's research, experience and commitment to women achieving justice in education and the workplace will serve her well at Douglass. I know she will bring the leadership and sustaining vision necessary to supporting and enhancing women's education at Rutgers in the 21st century," said Rutgers President Richard L. McCormick.
Litt's background includes scholarship, teaching and administration in women's issues.  
As the principal investigator for the National Science Foundation ADVANCE grant administered at Missouri, Litt is responsible for establishing practices to promote gender equity in science, technology, engineering and mathematics, as well as providing support for women in senior faculty positions in the same fields. 
Litt – who earned her master's and doctoral degrees in sociology from the University of Pennsylvania and received a bachelor's degree in sociology at William Smith College – also directed women's studies programs at Iowa State University and Allegheny College. 
At Iowa State, Professor Litt earned the "Distinguished Faculty Award" from the American Association of University Women-Iowa Chapter for her distinguished contribution toward gender equity in education. 
The American Sociological Association awarded Litt the "Outstanding Achievement in Scholarship" award on race, class and gender for her book Medicalized Motherhood: Perspectives from the Lives of African-American and Jewish Women. Litt also is the co-author of Global Dimensions of Gender and Carework. 
Litt's research on African-American women's networks after Hurricane Katrina led to her receiving a grant from the Social Science Research Council to study the displacement of families due to the hurricane. 
"I am tremendously honored to join the talented leadership team at Douglass Residential College, which has already established national prominence in the education of women," Professor Litt said. "Douglass students enjoy cutting-edge programs that enhance their professional and intellectual development, all within the context of one of the greatest universities in the world. I look forward to becoming a part of such an exciting and empowering environment for undergraduate women students."
Douglass Residential College builds on the mission of the New Jersey College for Women, founded in 1918 by Mabel Smith Douglass. With 1,800 students, Douglass maintains a deep commitment to its historical roots as a pioneering public women's college and continues to advance its mission through innovative programming focused on women's achievement. 
Established in 1766, Rutgers, The State University of New Jersey, is one of the nation's premier research universities, serving more than 53,000 students on campuses in Camden, Newark and New Brunswick. Rutgers is a member of the prestigious Association of American Universities, a highly selective organization comprising the 63 leading research universities in North America.  
Media Contact: Nicole Pride
732-932-7084, ext. 610
E-mail: npride@ur.rutgers.edu