Painting Pictures of What's Possible
Rutgers' Corey James dedicates himself to reframing the world for inner-city youth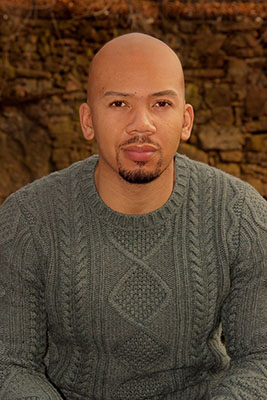 'Painting Pictures is to help them understand that there is a brighter picture that they can create, that they can actually be masterpieces themselves. It's helping them refocus and understand you don't have to become what you see.'

 

– Corey D. James
As first-day-on-the-job stories go, Corey D. James has a memorable one. New to being a juvenile justice counselor, he walked to the door of his client's Atlantic City home and found the young man pointing a gun at his father and arguing.
James didn't know what to do. He convinced the son to talk with him outside. Then he talked with the father. Finally, he brought both of them together and mediated the situation.
"In that moment, I started to realize that I had a niche, a skill, something that came naturally to me," he says.
Working with young people who were in trouble, or at risk of it – marginalized, disadvantaged youth, often with behavior problems – quickly became his career focus. His work took James to Newark and a job with a detention alternative program.
Early in 2014, three of the young men he was helping were killed by gunfire. Another was shot and paralyzed. "It was very traumatic and tragic. I needed relief. I was grieving," he says. He decided to find work with inner-city youth that was less about reacting in crisis and more positive.
That's when James became program coordinator for Rutgers Future Scholars-Newark, a program to help low-income, academically promising students succeed and attend college. He saw this as a way to support young people before things might go wrong, and to provide help if needed.
Yet he also realized "I still needed to be in the midst of the streets and what's going on there," he says.
So he formed Painting Pictures, a nonprofit whose name conveys the vision he hopes it will give what he calls "the hardest cases." These young people, he says, repeat cycles of leaving school, violence, drugs and incarceration because "that's all they see, so that's all they know." 
"Painting Pictures is to help them understand that there is a brighter picture that they can create, that they can actually be masterpieces themselves," he says. "It's helping them refocus and understand you don't have to become what you see."
The small, all-volunteer group provides emotional and social support through teaching, workshops, recreational and cultural activities, and mentors. Painting Pictures currently helps eight young people from Newark.
"Corey is part of the school of thought in which we know all of our young people have limitless possibilities," says Aramis Gutierrez, director of RFS. "They are hopeful, but it's a matter of assuring opportunity meets that hope."
James wants to spread the idea that kids many have given up on can see more for themselves and their lives. To accomplish that, he wrote and published Painting Pictures: Reframing the World of Inner City Youth, a book that he hopes will motivate readers to become mentors to such kids.
It took a while for James to see himself in the young people he was helping. His book is dedicated to his grandmother, great aunt and godmother because "they painted pictures for me." His life with them was calm and supportive, but it hadn't always been that way.
He writes of the "mayhem and destruction" in his early home life with his parents, and so he lived with his grandmother. He adopted a "good kid demeanor but felt broken underneath." James later realized that experience fueled his passion for working with at-risk youth, because he knows how they feel.
His energy drives both his work with Painting Pictures and RFS. "Corey's enthusiasm and dedication is awesome," says Timothy Longman, an adjunct English and writing professor at Kean University who is a Painting Pictures volunteer and also helps RFS students. He describes James as "genuine."
The book is filled with personal stories from young people, as well as his own. James also includes challenges to adult readers on how to make a difference. He readily acknowledges how hard that can be at times.
Gutierrez agrees. "When you get into this line of work, you've got to be all in. Corey gets that concept. It takes a different philosophy and an unconditional commitment to serving youth," he says.
Being "all in" means knowing that not every story will have a happy ending and continuing to be involved anyway, even when things go wrong.
Remember the young man paralyzed by a bullet in 2014? Painting Pictures and James have been working with him.
This month, he will graduate high school. "I'm really excited for him," James says.
---
For more information, contact Carla Cantor at 848-932-0555 or ccantor@ucm.rutgers.edu