In Adapting to the Pandemic, the Physician Assistant Program Found Better Ways to Learn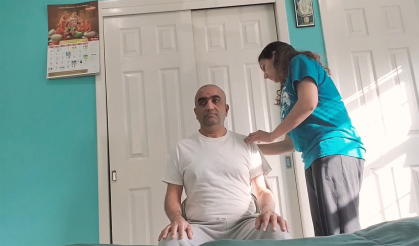 With the camera rolling in a turquoise room, physician assistant student Hiral Jani practiced a shoulder exam on a "patient" – actually, her father. She palpated his shoulder, checked for range of motion and explained that she was looking for evidence of atrophy, swelling and tenderness.
Her peers watched the videotape and offered feedback. "You were very calm, confident and in control," said one student, who also noted that Jani could improve by specifying the types of injuries for which she was testing. 
Before the pandemic, patient assessments were taught in small groups on fellow classmates, with instructors providing feedback in real time.
But, when COVID-19 upended class routines last spring, faculty in the physician assistant (PA) program at Rutgers School of Health Professions adapted – and discovered that virtual peer reviews by other students and faculty were an effective way for students to learn, sharpening their skills to assess not only others but themselves and improving their work.
The peer review component was incorporated into the curriculum this fall, and it will be a permanent part of the physical assessment curriculum.
Faculty member Thea Cogan-Drew called the change to peer review "idea generation under pressure."
"It was always a very hands-on course, and when we went remote, it was one of the big adjustments we had to make," said Cogan-Drew.
 "We needed to keep moving students forward with elearning and fulfill the objectives of the course. I had researched this idea and found that a student giving peer feedback is very valuable and can enhance the learning process."
Student Ryan Elie said it was helpful to have time to carefully watch himself, and others, on video during an examination.

"The benefit of doing it in a virtual setting is that by watching a recording of an assigned classmate, you have the time to slow down and analyze everything they are doing. You can confirm that they have proper technique by referring directly to the textbook, and communicate to them where you saw areas for improvement," he said.
Students also discovered it didn't really matter what type of "patient" they practiced on –  some used a stuffed animal or a doll, while others used a family member. One quarantined student used a hinged lamp to replicate a knee joint.
Jani found advantages to practicing on her father, since he couldn't anticipate the questions in the way another PA student might have. "It gives you more of a feel of what it will be like with a patient,'' she said.
Both students said the peer review experience will better prepare them for clinical rotations when they work in medical settings with patients.
"You notice areas where you can be more clear when you are giving instructions to a patient," said Elie.
"You can watch yourself and build upon your skills," said Jani.