We're Making an Impact
With research and development expenditures at $736.8 million, Rutgers is a gold mine of great ideas. Many of the best ideas find a way to get commercialized or otherwise advanced through university programs that provide funding, mentorship, publishing assistance, networking, and more.
At Rutgers, researchers are transforming concepts into products and services that improve lives, create new knowledge, and enrich humanity—all fundamental to Rutgers' mission of teaching, research, and service.
Explore some of the many opportunities Rutgers provides for students, faculty, and staff to take great ideas to the next level.
1. TechAdvance and Research Commercialization
An early-stage development fund created to move Rutgers technologies out of the lab and into the marketplace, TechAdvance addresses the funding gap that exists between the initial phases of research and product commercialization and market development. TechAdvance provides Rutgers research teams with funding (up to $100,000) and business expertise to help bring a product to market.  The Office of Research Commercialization also offers support to help teams transition technologies and copyrighted materials, meet licensing needs, and explore startup business options.
►Learn more about TechAdvance 
2. Rutgers I-Corps Site
The Rutgers I-Corps Site is a cohort-based program that helps inventors (faculty, staff, students, and/or alumni) move an idea from concept to marketplace. Funded by the National Science Foundation, the Rutgers I-Corps Site provides advice, resources, networking opportunities, training, and modest funding to assist teams with the commercialization process and/or becoming applicants for the National I-Corps team to gain access to even more funding. I-Corps will be at the Rutgers Innovation and Entrepreneurship Expo, which features a pitch competition for undergraduate and graduate students with big ideas waiting to take flight. Several student groups have found their way into I-Corps via the pitch competition. 
►Learn more about Rutgers I-Corps
3. GradFund
Students enrolled in the School of Graduate Studies have access to a host of resources to advance their studies, including the GradFund program, which assists graduate students in identifying and applying for merit-based research grants and fellowships to support graduate study and research.
►Learn more about GradFund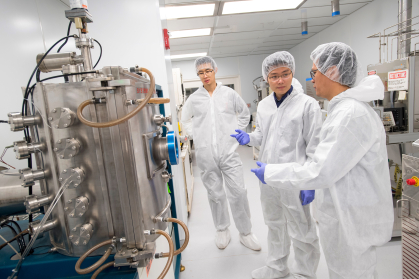 4. Busch Biomedical Grants
The Busch Biomedical Grant program is designed to enhance health-related research at Rutgers and to strengthen the competitive position of faculty members who seek external research funds. The grants support research projects by awarding up to $40,000 for up to a two-year period. Funding to support early career faculty, high impact research, and unfunded grant applications is available.
►Learn more about Busch Biomedical Grants
5. Research Council Grants and Publishing Support
Rutgers faculty are eligible to apply for Research Council grants and subventions to further their research and academic publications. The grants are intended to help defray costs associated with research and other creative endeavors, with the expectation that the grant will provide an avenue to securing additional outside funding. Sometimes, scholarly presses will ask authors to cover a portion of production costs to make a publication more affordable. The Research Council subvention program is designed to assist in covering these costs.
►Learn more about Research Council funding 
6. Research and Innovation at Rutgers–New Brunswick
The Office of Research and Innovation administered by the provost at Rutgers University–New Brunswick offers connections to a vast research network, funding opportunities, support, and more. The office provides research resources, stipends for new research in the humanities and arts, seed funding through ideation forums to interdisciplinary research teams, guidance on research proposal development and submission, and connections to potential collaborators across the institution.
►Learn more about researcher support at Rutgers University–New Brunswick
7. Researcher Support at Rutgers–Newark and Rutgers–Camden
Rutgers University–Newark supports collaborative research efforts of faculty, students, and staff through its Office of Research and Sponsored Programs. The office provides support in securing external research funding and assistance with service and outreach projects and academic programs. At Rutgers University–Camden, the Provost's Fund for Research provides support for faculty research, scholarly work, and creative endeavors. The program encourages multidisciplinary collaboration, plus new and innovative research undertakings from early career faculty.
Learn more about researcher support at:
►Rutgers University–Newark
►Rutgers University–Camden
8. Rutgers Global Grants
Rutgers Global offers seed grants to expand the university's international research and teaching footprint. International Collaborative Research grants provide funding for projects initiated by Rutgers faculty who are collaborating worldwide.
►Learn more about Rutgers Global Grants
9. Research with Rutgers Database
The Research with Rutgers database is a platform that allows potential collaborators to find experts, facilities, and capabilities in the STEM-related fields at Rutgers. The publicly available, free database can be used as a tool to connect with Rutgers researchers who share similar interests. The database is part of a statewide initiative to increase the exchange of ideas and foster collaboration at Rutgers and other academic institutions in New Jersey.
►Learn more about the Research with Rutgers Database
10. Undergraduate Research
Undergraduate students have the opportunity to learn from and work with leading faculty to explore unique scholarly opportunities. Research-minded undergraduate students at Rutgers University–New Brunswick can get support through the Aresty Research Center. Through the competitive fellowship program, students can explore the process of research, as well as connect with faculty mentors on projects to define their goals. Aresty enables students to find funding and a platform to present their findings universitywide during an annual symposium. The center's Undergraduate Research Fellowships are intended to defray costs for students conducting independent research projects under the guidance of a professor.
►Learn more about Aresty Undergraduate Research Fellowships
At Rutgers, groundbreaking research happens and gets put into practice to make the world a better place. Whether you're part of the Rutgers research community or considering joining us, know that the university has many options in place to help take your idea to the next level.
 
Article first published August 20, 2019.  Produced by Rutgers University Communications and Marketing.