The next time you embark on a painting project in your home, you should know that your gentle up-and-down motion with the brush as you apply paint might well be your first step toward becoming an orchestra conductor. Well, probably not. Nonetheless, Kynan Johns, a professor of conducting at Mason Gross School of the Arts at Rutgers University–New Brunswick, uses the example of painting with a brush to help undergraduate music students grasp the rudiments of a conductor's arm motion leading an orchestra. It is only a very small step in mastering a complex artform that few people, even opera and classical music buffs, understand other than perhaps appreciating the ecstatic body movements of colorful practitioners such as the late Leonard Bernstein.
For Johns, a native of Australia who has conducted top orchestras and opera companies worldwide, there has been no playbook to follow for teaching the art of conducting—or practicing it, for that matter. Yet for 18 years, amid a flourishing professional career, Johns has taught undergraduate and graduate students, finding novel ways to teach them the elusive craft. He has held the title of director of orchestras and has conducted the Rutgers Symphony Orchestra since 2003, producing, in his estimation, "a fabulous orchestra, full of amazing talents and arguably one of the leading conservatory orchestras and programs in the country." Graduates are members of many of the nation's leading symphony orchestras, including the Chicago and Cincinnati Symphony Orchestras, as well as countless international ensembles.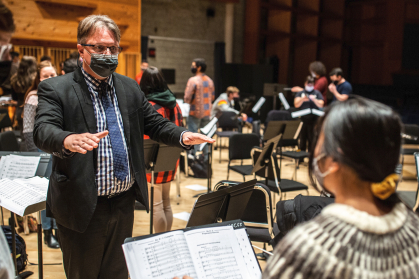 "The conductor is there to help musicians make great music," says Johns, who studied under luminaries Lorin Maazel and Kurt Masur, among other maestros. "As a leader, a conductor has to figure out what he or she has to do to allow them to do that. You want to be as clear with your information as possible." Conducting comes down to two fundamentals, he says: knowing how to lead the orchestra and knowing when to do so. It's a balancing act: too much of the how—giving musicians instruction on their actual playing—and musicians may feel over directed and mistrusted; too little of the when—cues for musicians to enter the music or to stop playing—and the entire piece can feel off and affect player performances.
"As [the late conductor] Lorin Maazel used to say to me: 'Kynan, they are professional musicians. If they are clear on the when, they can concentrate on the how'—beauty of tone, intonation, dynamics, and making a lovely sound. But if they are not sure when to do that, the how can't happen."
Like musicians trying to develop their craft, conductors need to work with their "instrument"—that is, an orchestra, band, or choir. Conductors' understanding of their own body language—and how a group of players responds to it—is paramount. Just as no two bodies are the same, no two conductors move alike and techniques vary widely; a gesture that will work for one conductor falls flat for another. And their body movements affect members of the listening audience, too. Many of them depend on the conductor's movement to validate what they are hearing, that they are appreciating the right things.
Although there are principles and bad habits to avoid, conductors can only evaluate their overall technique and gestural vocabulary by getting feedback from an ensemble, a process that takes years. As if that were not enough of a challenge, conductors' "instruments" change every time they work with a new ensemble, and ensembles can differ from nation to nation and culture to culture, not to mention different ages and experiences of players. An ensemble's interpretations of a conductor's gestures and communication vary. Conductors have to quickly adapt their technique to how the new ensemble responds.
"One of my teachers used to say, 'You only become a better conductor by working with better orchestras,' " says Johns. "At the highest levels, you know that if something isn't working, it most likely is your fault. But at more formative levels, it might not always be clear—which is why the development of good conducting technique takes so much time."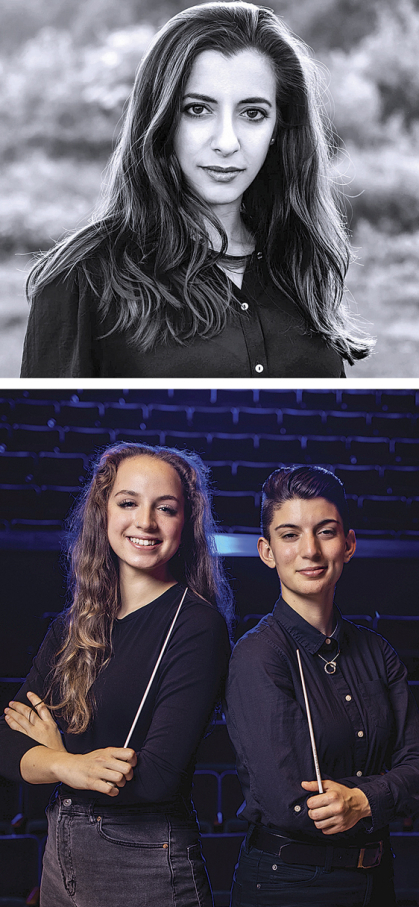 During the fall, Johns taught "Conducting I" for 40 undergraduate music education majors who received a broad introduction to conducting and will be sufficiently versed in the artform when they begin teaching music in schools after graduating. "With a class like this, the objective is to get them as fluid and smooth as possible," says Johns, who has won prizes in several international conducting competitions. "The tricky thing for me is that in giving them those skills, I have to guard against pitching it a bit too high. I will catch myself, realizing it is too early to introduce an idea, and it will only confuse things."
The more demanding instruction awaits his graduate students working toward a doctor of musical arts degree in orchestral conducting, a program available to only three to five students at a time so that each can get the proper amount of time at the podium under Johns's discerning gaze. One of his former students is Michelle Rofrano MGSA'13, who received her undergraduate degree in piano but was invited by Johns to study with a class of his graduate students. Today, she is the music director of the City Lyric Opera in New York City and has been successful in a field that, in the United States certainly, has been stubbornly resistant to having women conductors lead national orchestras. 
His role as the conductor of the Rutgers Symphony Orchestra has been rewarding, too. Over the many years, when he has conducted some demanding, complex pieces for the first time, the results have been consistently gratifying. As a graduate-level orchestra, the symphony presented nearly all the Mahler symphonies and Strauss tone poems—no easy feat. "I remember playing Maestro Maazel a live recording of our Prokofiev Symphony No. 5. He thought it was a professional European orchestra."
Johns made his European debut in 2000, conducting Beethoven's Fourth Symphony with the Netherlands Radio Symphony Orchestra. In 2004, he came to prominence when the Israel Philharmonic Orchestra invited him to replace Wolfgang Sawallisch for six subscription concerts, drawing acclaim for his performance of Beethoven's Seventh Symphony. Leading an orchestra through a composition by German greats like Beethoven and Mahler is, Johns says, inevitably a physically and emotionally draining experience for him. Johns has conducted more than 100 orchestras, among them the Rotterdam Philharmonic Orchestra, Cleveland Orchestra, Vienna Chamber Orchestra, and the Sydney and New Zealand Symphony Orchestras. Johns has many opera credits, including Don Giovanni, Madama Butterfly, Luisa Miller, Don Carlos, The Turn of the Screw, and La Bohème.
In the days surrounding his guest appearance to lead an orchestra, Johns is often invited to teach a master class to professional conductors. They are precious opportunities for them, years after their formative studies, to benefit from John's expert guidance. Conducting, unlike most high-performance fields, especially sports, lacks consistent mentorship and support, which, at best, have been intermittent and centered on a major celebrity—until that person passes away. "Conductors start their careers by having the rug pulled out from beneath them," says Johns, who originally trained for a vocal career. "It is almost ironic that all conductors begin their careers as they get their 'instrument' for the first time and they are supposed to be the master and know what they are doing. It's a case of sink or swim."
Johns feels strongly about exposing orchestral music and conducting to women and other underrepresented students who might not have otherwise considered such a career. The more they see themselves in the changing demographics of orchestras and the people leading them, the more likely they will want to pursue a music career. And the music is changing, too, no longer hidebound to the standards.
"It is definitely an exciting time as we reassess, as a society, our direction in all spheres," says Johns. "What excites me the most is that our society is open to new repertoire and trying new directions. We've lamented for too long that it is difficult to program outside of the standard repertoire. But now it is possible, and we have not only the opportunity, but also the duty."