Muriel Hasbun: Seismic Traces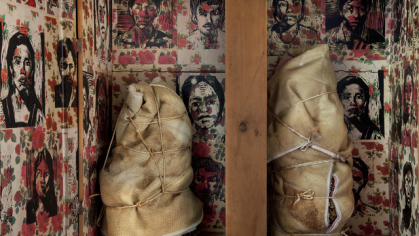 Renowned artist Muriel Hasbun, Professor Emerita of Photography at the Corcoran School of the Arts & Design at GWU, has been named the 2021-22 Estelle Lebowitz Endowed Visiting Artist at Rutgers. The Lebowitz program annually brings to the university community and general public the work and ideas of exceptional women artists through solo exhibitions, lectures, and short campus residencies.
Muriel Hasbun: Seismic Traces will be on view from September 1 – December 13, 2021, in the Mary H. Dana Women Artists Series Galleries, Douglass Library. Featuring photographs from various series as well as an interactive installation, the exhibition is curated by Dr. Tatiana Flores, Director of the Center for Women in the Arts and Humanities and Professor in the Departments of Latino & Caribbean Studies and Art History at Rutgers. To accompany the exhibition, CWAH will publish an online catalog featuring an interview with the artist by Flores and an essay by Dr. Erina Duganne, Associate Professor of Art History at Texas State University.