Dismantling Racism in Academic Public Health: An ASPPH Framework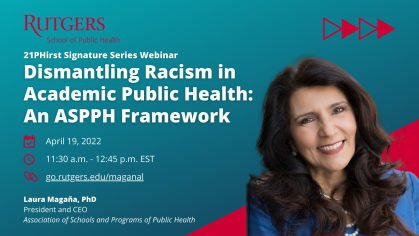 Part of the 21PHirst Signature Series
Join the Rutgers School of Public Health for a 21PHirst Signature Series Webinar by Dr. Laura Magaña, President and CEO of the Association of Schools and Programs of Public Health (ASPPH), on April 19, 2022, from 11:30 a.m. to 12:45 p.m. EST.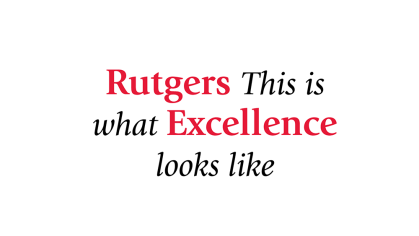 According to Dr. Magaña, racism is a public health crisis that demands a comprehensive and collaborative approach. Dismantling racism starts with an acknowledgement of the long history of cultural and structural racism, along with other forms of discrimination, that have shaped our schools and programs of public health. The webinar, "Dismantling Racism in Academic Public Health: An ASPPH Framework," will discuss how ASPPH's Task Force on Zero Tolerance of Discrimination, Harassment, and Racism developed a framework outlining the major changes needed to rethink and rebuild processes, procedures, and policies to dismantle the conditions that enable racism in academic public health institutions, and empower all our faculty, staff, and students to succeed in the 21st century.
This webinar is open to all!